Penelope Turner – voice; Andrew Wise – piano
Not just a Song Recital
Francis Poulenc, Samuel Barber, Benjamin Britten and Andrew Wise
an intimate atmosphere involving the audience directly
equal attention to both music and words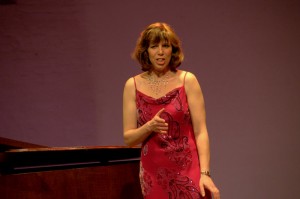 Light and Shade
from serious and intense to light-heartedly humorous
contrast and variety

an effervescent blend of cabaret and song recital in a delightful double-act
interpreting poetry through music
no invisible curtain between audience and artists
a programme in English and French
Reviews
"Penelope Turner and Andrew Wise entranced their audience with a sparkling song recital that was by turn touching, humorous and thought-provoking… We will certainly be asking them back." Rupert Carter, Cambridge Society of Belgium

"Het was werkelijk heel mooi: onderhoudend en aangrijpend, en natuurlijjk prachtig gezongen en voorgedragen. Het was anderhalf uur lang alsof je werd meegenomen van het ene naar het andere lied, van de ene emotie naar de andere, soms tegengestelde – en dat terwijl de tijd voorbij vloog zonder één moment van inzinking."

Ger Groot, writer and philosopher
Programme Details
Francis Poulenc – Banalités (1940). Words by Guillaume Apollinaire.
Chanson d'Orkenise
Hôtel
Fagnes de Wallonie
Andrew Wise – Three Auden Songs (2006). Words by W.H.Auden.
Roman Wall Blues
Autumn Song
Benjamin Britten – Cabaret Songs (1937). Words by W.H. Auden.
Tell me the truth about love
Funeral Blues
Johnny
Calypso
Samuel Barber – Despite and Still, Op. 41 (1969). Words by Robert Graves, Theodore Roethke, James Joyce.
My Lizard (Wish for a Young Love)
In the Wilderness
Solitary Hotel
Despite and Still