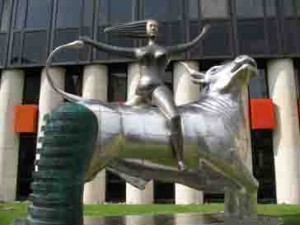 Functional Music for Today's Concerns – putting new 'classical' music into a relevant context
Music Relevant was set up to encourage a greater participation of new 'classical' music in different areas of everyday life.  This aim is based in particular around the compositional style of Stevie Wishart, which is ideally suited to reach beyond a purely contemporary music audience (audio clips below).
Our objective is to bring newly composed music into the European political arena : by creating works that are relevant to Europe and Europe's issues and by bringing these works into the buildings that house the political organizations themselves, either in the form of a concert performed in situ, or in the form of an installation.
We are also looking at ways to strengthen the link between contemporary art and music, and between music and theatre.
Music Relevant is :
Current Music Relevant projects include :
Europa – for voices, piano, bass lute, hurdy-gurdy and 'cello.  'Europa' Part I retells the story of the Greek myth and is sung in English, Ancient Greek and Latin, on texts by Ovid and Moschus.
'Europa' Part I is a celebration of Europe's common cultural heritage.  Part II will look at the situation of Europa today.