o bonifaci – it runs and it flows
This one turned out to have a tempo of about 58 on the metronome. Like a nice restful heartbeat. It seemed to ask for a soft rhythmic approach, so no percussion this time, and lots of accompanying cello. The pizzicato runs and flows to match the text: the pure water that flows (puros rivulos ex deo fluentes), watering the flowers (viriditatem florum rigasti); and then there's Boniface, who very wisely runs along the right path (in benivolentia rectarum viarum, in quibus sapienter cucurristi).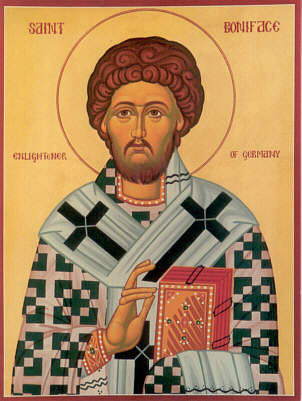 o bonifaci lux vivens vidit te similem viro sapienti qui puros rivulos ex deo fluentes ad deum remisisti cum viriditatem florum rigasti unde es amicus dei viventis et cristallus lucens in benivolentia rectarum viarum in quibus sapienter cucurristi.
o boniface, the living light saw you, like a sage, who returned to god the pure rivulets flowing from god when you watered the greenness of the flowers. For you are a friend of the living god and a bright crystal in the graciousness of the paths of right, on which, wisely, you ran.