ave maria – relatively space
Here, just in time for the feast for the birth of the Virgin Mary, the ave maria revisited.
I decided that this chant was quite busy enough already, and so there is no rhythmic accompaniment this time – rather some somewhat trance-inducing cello and voice held notes and bourdons.
And it seems to me to go very nicely with a picture of a Virgin Mary blue sky…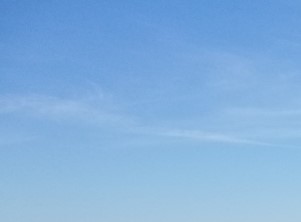 hail mary, source of life in rebuilding salvation, who has shaken death and trodden the serpent to which Eve reached up, her neck high with inflated arrogance. This you crushed by giving birth to god's son from heaven, inspired by god's spirit. O sweet and loving mother, hail, who gave the world your son sent from heaven, inspired by god's spirit. Glory be to the father and to the son and to the holy spirit. Inspired by god's spirit.