On Sunday May 10th you will have the chance to hear Stevie Wishart's piece 'Europa' live at La Bellone, a French-speaking venue for the performing arts in the heart of Brussels.
The pianist Andrew Wise, the bass-baritone Conor Biggs, Stevie herself on hurdy-gurdy, and I will be presenting 'Europa' as part of Composite#8 : a collection of short, diverse performances by 5 very different groups.
'Europa' is a Music Relevant production.  Music Relevant aims to increase the involvement of new 'classical' music in other areas of life.  By bringing 'Europa' to a house of the performing arts we are encouraging closer links between contemporary music and other contemporary art forms and we are taking it out of its classical setting.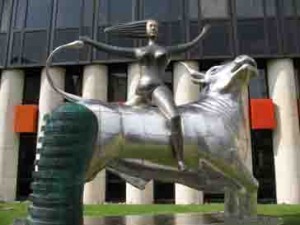 Click here for a short audio sample of Europa.
Composite#8 begins at 19h on Sunday May 10th.  'Europa' itself is not likely to begin before 21h15.  Reservation is strongly recommended.  La Bellone, maison du spectacle, 46 rue de Flandre, 1000 Brussels.  Tel: +32 (0)2 513 33 33, fax: +32 (0)2 502 61 59.  info@bellone.be, www.bellone.be.  Click here for more info and practical details.