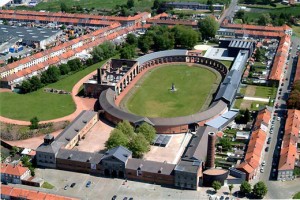 A quick word in praise of the "Site du Grand-Hornu" in Mons.  It was buit as an industrial mining complex in the early 19th century, and comprised workshops, offices, as well as housing both for the workers and the administrators.
In its hey-day, the Grand-Hornu was producing nearly 120,000 tons a year and employing nearly 1500 people.  The mining concern shut down in 1954, but the site was fortunately bought by the Province of Hainault in 1989 and has been beautifully restored.
There are a few eerie reminders of times past and in one courtyard a lingering feeling of desolation, but the oval building that can be seen above has been elegantly fashioned into a most unusual and effective space.  It now houses the Contemporary Arts Museum of the French Community of Belgium (MAC's) and hosts other temporary exhibitions.