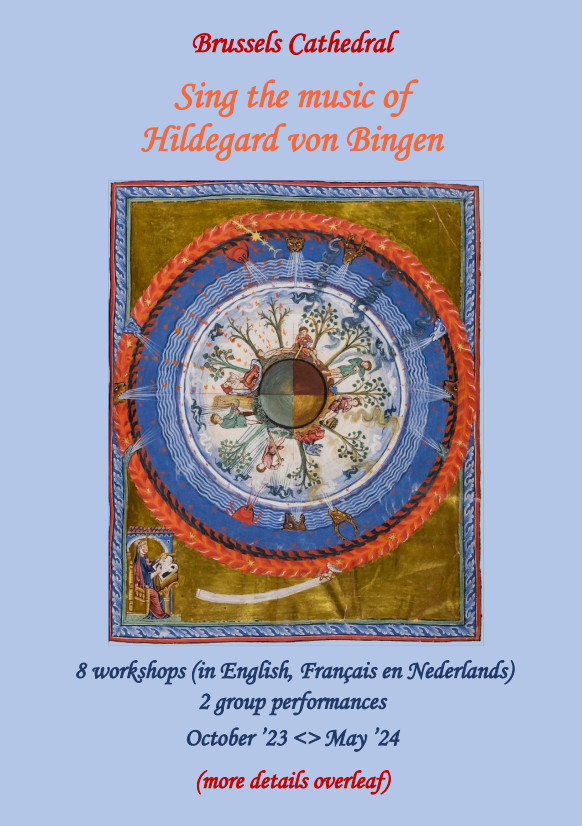 During the next academic year, I will be running a series of monthly workshops (given in English, French and Dutch) that will teach you to sing Hildegard von Bingen from her original notation. Once you've tried it you'll never look back 🙂
Music was a central part of Hildegard's life – she considered it to be a foretaste of paradise. This project concentrates on her Marian chants, which we will explore using two magnificent 12th century manuscripts.
Why learn to read her language?
Singing Hildegard from modern editions is problematic because our modern notation encourages a note-by-note interpretation of her melodies. Using the original notation as a basis frees up your mind and your voice as you follow the direction of the musical phrases, shown graphically on the page. It is a language that once learnt is never put aside!
Who should come?
Many different kinds of singer will benefit from these workshops, from music students and professionals interested in learning about medieval music and Hildegard's compositions, to musical amateurs drawn by her brilliance. The only technical requirement is that you can pitch and hold a note, because we will learn the language of the notation together.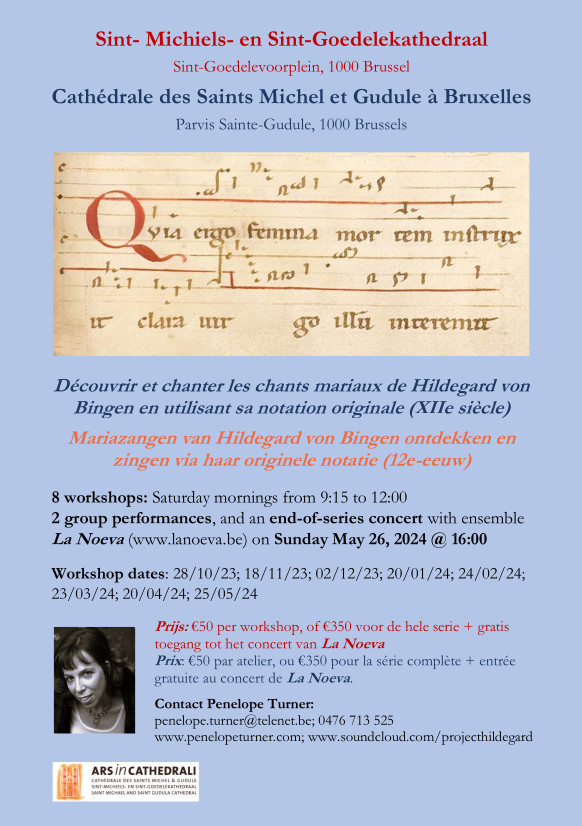 Practicalities:
There are eight workshops planned between October 2023 and May 2024 (dates on the flyer), all in the beautiful Brussels Cathedral on Saturday mornings between 9:15 and 12:00. There will also be 2 group performances, one mid-way through the series and one at the end, and there will be an end-of-series concert given by the ensemble La Noeva on Sunday May 26, 2024 at 4pm.
Because of the nature of these workshops, I am limiting the number of participants to 10. First come first served! Please contact me (penelope.turner@telenet.be or +32 476 713 525) and I will send you a registration form. The basic prices are mentioned on the flyer, but please note that I am offering a reduction of 25% for professional musicians, the unemployed and the over 65s, and a reduction of 50% for students.
Big thanks to the Cathedral for hosting this project. I can't wait to share this wonderful music with you!