Although it sounds vaguely African, in fact, the M HKA is the newly done-up modern art museum in Antwerp.  I visited it this week and I was impressed.
The building that houses M HKA is immediately inviting; the architecture is unusual and eyecatching.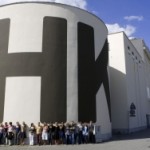 Also, it's located in a great part of Antwerp, not far from the Cathedral, along the Schelde.  (The more classical Museum for Fine Arts is just a few minutes away.)
Inside the set-up of the museum is spacious and interesting.  The formula is one ticket to visit all the (smallish) exhibitions that are on at the time.  You can see what's on offer via the new, trendy website :
I was not particularly grabbed by the textiles;
some of the Chinese pictures from Useful Life made me feel distinctly queasy;
I loved Collectie XXIV, which features mostly Belgian and Dutch artists (Jan Fabre, Job Koelewijn);
the photos of the Uzbek Said Atabekov in Lonely at the Top were thought-provoking and atmospheric.
The children were free, and there is a lovely kids' corner where cultured-out young ones can chill with a pot of crayons.
And, of particular interest to me, you will see on the website that the museum is actively promoting the intermingling of different cultural disciplines, in particular including musical and dance projects on its agenda.  Hooray!
Museum van Hedendaagse Kunst Antwerpen
Leuvenstraat 32,
2000 Antwerpen, België